What's Up Wednesday: Pesky Grays Edition
What's Up Wednesday hails from the blogs of
Jaime Morrow
and
Erin Funk
. Join the fun on your own blog and then go to Jaime's to add your link - it's a great way to share what's going on in your life and get to know other bloggers! Here's what's up:
WHAT I'M READING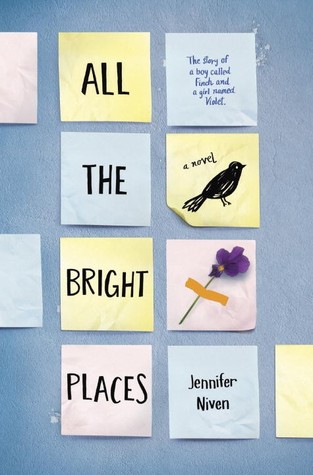 Well, I read another crazy amount of books in January (21 again!). In the last few days, I read two amazing, heart-wrenching books (my favorite kind).
ALL THE BRIGHT PLACES
by Jennifer Niven - I don't know where to begin. Beautiful, lyrical, profound, heartbreaking. And so important. Honestly, it brought up emotions and experiences I hadn't thought of for many years. Definitely my top read of the year so far.
I'LL MEET YOU THERE
by Heather Demetrios - I loved last year's SOMETHING REAL and was really looking forward to this. And it did not disappoint. Another important topic. And again, had me thinking about things and people from a very long time ago.
Next up... not sure, but it needs to be something a bit lighter.
WHAT I'M WRITING
I'm in the home stretch of this latest revision of KEYS/NOT KEYS. Still haven't arrived at a new title. But I plan to send this little bird where it needs to go by Friday. Excited to have the encouragement of other Writer Rechargers to help get me there!
WHAT ELSE
Work - holy events, Batman! January was chock-a-block and everything went well. We hosted an angsty Super Bowl party (oh wait, maybe I was the only angsty one) - our 16th Annual. This is one of our favorite days of the year.
WHAT WORKS FOR ME
Chicken nuggets (gluten free), hot dogs (no buns), nachos, and cereal for supper, that's what works for me. And it works for the kids. They love revision weeks when suppers are super casual and scroungy. Every night.
Lately I've been feeling a little down - I wouldn't say I've got the blues and I definitely don't have the Holly Golightly Mean Reds. I think I've got the Pesky Grays, which are pretty mild in comparison. We had some nice days in January, but we're back to a cloudy, gray, dreary, cold, snowy winter and it's bumming me out. And there's other stuff, too, but I've got my SAD light and I'm glad for my family, good friends, good books, and Writer Recharge to help get me through the Pesky Grays.
This works, too:
Relaxing 3 Hour Video of A Tropical Beach with Blue Sky White Sand and Palm Tree
What's up with you, friends?