Monday Must-Reads: Summertime Edition
Ah, July in Minnesota. It's my favorite month, even though I hate the intense heat and oppressive humidity. (Today the actual temperature is 93 degrees, but it feels like 107. Gross.)
What do I love so much about July? The rich, vibrant colors - the bluest skies reflected on the glassy surfaces of cool lakes, the purest white clouds, the lushest greens of grass and trees and fields.
THE LAST THING YOU SAID is set in a lake town during a hot Minnesota summer. I love to write about summer, and I love to read summer books, especially ones that take place at the beach or the lake. Here are some of my favorite Summertime Reads.
─────────────────────────────────────────────────────────
Alex, Approximately by Jenn Bennett
From
Goodreads
:
Classic movie fan Bailey "Mink" Rydell has spent months crushing on a witty fim geek she only knows online as Alex. Two coasts separate the teens until Bailey moves in with her dad, who lives in the same California surfing town as her online crush.
Faced with doubts (what if he's a creep in real life - or worse?), Bailey doesn't tell Alex she's moved to his hometown. Or that she's landed a job at the local tourist-trap museum. Or that she's being heckled daily by the irritatingly hot museum security guard, Porter Rich - a.k.a. her new archnemesis. But life is a whole lot messier than the movies, especially when Bailey discovers that tricky fine line between love, hate, and whatever it is she's starting to feel for Porter.
And as the summer months go by, Bailey must choose whether to cling to a dreamy online fantasy in Alex or take a risk on an imperfect reality with Porter. The choice is both simpler and more complicated than she realizes, because Porter Rich is hiding a secret of his own. Porter is Alex...
Approximately
.
─────────────────────────────────────────────────────────
Summer of Supernovas by Darcy Woods
From
Goodreads
:

Fans of Jennifer E. Smith and Jenny Han will fall in love with this heartfelt and humor-laced debut following one zodiac-obsessed teen as she struggles to find the guy of her cosmic dreams.

As the daughter of an expert astrologer, Wilamena Carlisle knows that truth lies within the stars. So when she discovers a planetary alignment that won't repeat for a decade, she's forced to tackle her greatest astrological fear: The Fifth House - relationship and love. But Wil must decide to whether to trust her heart or her chart when she falls for a sensitive guitar player whose zodiac sign points to cosmic disaster.

If Wil's fate is truly written in the stars, then this summer is about to go supernova...


─────────────────────────────────────────────────────────
Summer of Sloane by Erin L. Schneider
From
Goodreads
:
Warm Hawaiian sun. Lazy beach days. Flirty texts with her boyfriend back in Seattle.
These are things seventeen-year-old Sloane McIntyre pictured when she imagined the summer she'd be spending at her mom's home in Hawaii with her twin brother, Penn. Instead, after learning an unthinkable secret about her boyfriend, Tyler, and best friend, Mick, all she has is a fractured hand and a completely shattered heart.
Once she arrives in Honolulu, though, Sloane hopes that Hawaii might just be the escape she needs. With beach bonfires, old friends, exotic food, and the wonders of a waterproof cast, there's no reason Sloane shouldn't enjoy her summer. And when she meets Finn McAllister, the handsome son of a hotel magnate who doesn't always play by the rules, she knows he's the perfect distraction from everything that's so wrong back home.
But it turns out a measly ocean isn't nearly enough to stop all the emails, text, and voicemails from her ex-boyfriend and ex-best friend, desperate to explain away their betrayal. And as her casual connection with Finn grows deeper, Sloane's carefree summer might not be as easy to find as she'd hoped. Weighing years of history with Mick and Tyler against their deception, and the delicate possibility of new love, Sloane must decide when to forgive, and when to live for herself.
─────────────────────────────────────────────────────────
Goodreads
:
Maggie Sanders might be blind, but she won't invite anyone to her pity party. Every since losing her sight six months ago, Maggie's rebellious streak has taken on a life of its own, culminating with an elaborate school prank. Maggie called it genius. The judge called it illegal.
Now Maggie has a probation officer. But she isn't interested in rehabilitation, not when she's still mourning the loss of her professional-soccer dreams, and furious at her so-called friends, who lost interest in her as soon as she could no longer lead the team to victory.
Then Maggie's whole world is turned upside down. Somehow, incredibly, she can see again. But only one person: Ben, a precocious ten-year-old unlike anyone she's ever met. Ben's life isn't easy, but he doesn't see limits, only possibilities. After awhile, Maggie starts to realize that losing her sight doesn't have to mean losing everything she dreamed of. Even if what she's currently dreaming of is Mason Milton, the infuriatingly attractive lead singer of Maggie's new favorite band, who just happens to be Ben's brother.
But when she learns the real reason she can see Ben, Maggie must find the courage to face a once-unimaginable future... before she loses everything she has grown to love.
─────────────────────────────────────────────────────────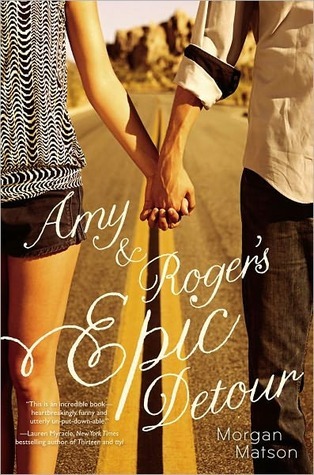 Amy & Roger's Epic Detour by Morgan Matson
From
Goodreads
:
Amy Curry is not looking forward to her summer. Her mother decided to move across the country and now it's Amy's responsibility to get their car from California to Connecticut. The only problem is, since her father died in a car accident, she isn't ready to get behind the wheel. Enter Roger. An old family friend, he also has to make the cross-country trip - and has plenty of baggage of his own. The road home may be unfamliar - especially with their friendship venturing into uncharted territory - but together, Amy and Roger will figure out how to map their way.
─────────────────────────────────────────────────────────
Twenty Boy Summer by Sarah Ockler
According to Anna's best friend, Frankie, twenty days in Zanzibar Bay is the perfect opportunity to have a summer fling, and if they meet one boy every day, there's a pretty good chance Anna will find her first summer romance. Anna lightheartedly agrees to the game, but there's something she hasn't told Frankie - she's already had her romance, and it was with Frankie's older brother, Matt, just before his tragic death a year ago.
TWENTY BOY SUMMER explores what it truly means to love someone, what it means to grieve, and, ultimately, how to make the most of every beautiful moment life has to offer.
─────────────────────────────────────────────────────────
Girlfriend Material by Melissa Kantor
If Kate were Lady Brett Ashley, the devastating heroine of Hemingway's The Sun Also Rises, she'd spend her summers careering around the Riviera in her coupe, breaking hearts by the dozen - because why not? In reality, Kate's never even had a boyfriend, and she'll be spending the summer abetting her mom's lame ploy to make her dad jealous: running off to Cape Cod and crashing at the seaside home of her wealthy friends, the Cooper-Melnicks. To add to the shame, the Cooper-Melnicks' gorgeous daughter Sarah is a bit like Lady Brett, and she seems less than thrilled to hang out with her new houseguest. Any dreams Kate once had of a perfect summer are ruined.
That is, until Sarah's cute, witty friend Adam starts drawing Kate into the fold - and seems intrigued. With Adam around, Kate feels like she just might have a bit of heartbreaker potential after all. But when a breezy summer romance quickly grows more complicated, can Kate keep pretending her relationship with Adam is a carefree fling? Or will she take the risk and tell him her real feelings? Suddenly Kate is asking herself a question she never thought she'd stoop to: Is she girlfriend material?
─────────────────────────────────────────────────────────
I know there are plenty I've missed, like Jenny Han's Summer series and Morgan Matson's Second Chance Summer. What are your favorite Summertime Reads?